John Moore, entered the world at a quarter past midnight on 23rd December 1964.
At school, he acquired the nickname Mussolini, for his habit of scowling at classmates and refusing to come out from under the table.
At the age of ten he began having guitar lessons. To save his family from further renditions of 'Street of London' and 'Scarborough Fayre', a family friend gave him some Muddy Waters, Little Richard and Bo Diddley LPs to learn, which he did.
In 1985, owing to a remarkably similar dress sense to the The Jesus and Mary Chain he was asked to join the band – eagerly abandoning his degree course – before it abandoned him.
He left in 1988, then released two albums as John Moore And The Expressway, then squandering his advances in New York.
Having explored Rock'n'Roll in great detail, he returned to England. Just as Grunge was sweeping the nation, he formed the minimalist trio Revolution 9. Critically applauded, but out of sync with the times, they released an album called 'You Might As Well Live.'
While on tour in The Czech Republic, Moore discovered Absinthe. He fell in love with the stuff, and the feeling was mutual. Having managed to persuade the distiller that he should be allowed to import it, he came to the attention of The Idler Magazine, with whom he set up a company called Green Bohemia. Right in time for the Millennium they started the Absinthe craze – and did well out of it.
At the same time, Black Box Recorder – the group he founded with Luke Haines and Sarah Nixey, hit the top twenty with The Facts Of Life, and a mere eleven years after his previous appearance, he was back on Top Of The Pops. Black Box Recorder released three albums – England Made Me, The Facts Of Life, and Passionoia, as well as a Worst Of Black Box Recorder compilation.
Interest in the band remains high, and fresh activity is being planned.
In 2005, Moore released Half Awake on his own label – The Germ Organization, which despite critical success, confirmed to him that he was not best suited to the DIY approach.
In May 2006, he became the first man to have appeared on Top of the Pops, and been interrogated by Jeremy Paxman on Newsnight and University Challenge.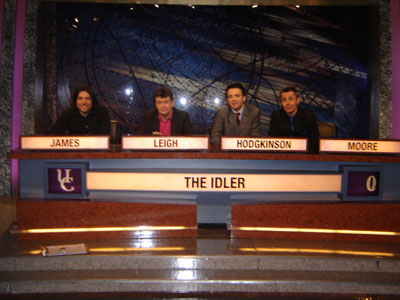 He lives in central London, writes music and fiction, and plays the Musical Saw. He is a regular contributor to The Guardian Arts And Entertainment website and has written for periodicals including The Idler and The Erotic Review, contributed to books such as The Decadent Handbook and Crap Holidays, and written one novel Bad Light.
In December 2007 Black Box Recorder recorded a joint Christmas single with the massively successful rock group
Art Brut – Christmas Number One by The Black Arts.
In 2008, he released the album Floral Tributes.
John Moore lives in central London, eking out a living from writing and performing music, and as a freelance journalist and occasional broadcaster. He has had articles published in The Guardian newspaper, and his columns have appeared in its Weekend Magazine. He also writes a regular blog for the paper's Website.
He writes for periodicals including The Idler – for whom he is Sports Editor, Word Magazine, The Erotic Review, Select, and has contributed chapters to collections such as The Decadent Handbook, Crap Holidays, and 2009's best selling Caught By The River. He has also written short stories and one novel.
In February 2009, Black Box Recorder played their first live shows for five years, selling out two highly acclaimed shows. In May 2009, The BMW Motor Company used their song
The Art Of Driving for a TV ad campaign in Australia and New Zealand. In July 2009 they sold out London's prestigious Queen Elizabeth Hall. A new album is planned for release in early 2010.
STOP PRESS
John is currently working on a Rock and Roll album with his Rock And Roll Trio which features Phil King and Loz Colbert of The Jesus And Mary Chain and his reknowned lady backing singers The Loose Moorelles. It will be out before the end of the year.